Product Description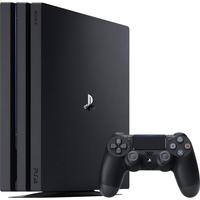 PlayStation 4 Pro Black 1TB
Experience gaming at a whole new level with the PS4 Pro. The PlayStation 4 Pro has faster frame rates, double the power of PS4, and with 4K TV gaming for stunning clarity and realistic visuals. Play the latest PS4 games with the PS4 controller and stream your favorite videos with compatible 4K services. Enrich your gaming with HDR and experience the lifelike colors and details while you play. Heighten your senses with the PlayStation 4 Pro. The PS4 Pro 1TB is gaming at its best.
WHAT??S INCLUDED:
PlayStation 4 Pro 1TB Console
PS4 DUALSHOCK?4 Wireless Controller
DUALSHOCK?4 USB charging cable
HDMI cable
AC power cord
*All cables may not come with Pre-Owned
GREATNESS AWAITS
PlayStation 4 Pro plays all PS4 format games. You can check PlayStation? Store for games that take advantage of PS4 Pro specific features, or look for the PS4 Pro Enhanced?? icon on software packaging. Features vary from title to title. Select titles may have enhanced visuals, frame rate, HDR 10 support, or increases in resolution. Select features depend on the type of display connected to PS4 Pro. Vertical stand sold separately.
*Compatible 4K display required as well as dynamic 4K capable software. Game resolution depends on software. 4K Entertainment requires subscription to 4K-compatible content streaming service, a robust internet connection, and a compatible 4K display. PS4 Pro does not support 4K Blu-ray Discs. PS4 Pro provides auto-upscaling for standard Blu-ray Discs.
***PS Plus membership sold separately
FEATURES:
Spectacular graphics
Explore vivid game worlds with rich visuals heightened by PS4 Pro.
Enhanced gameplay
Support for faster frame rates delivers super-sharp action for select PS4 games.
One unified gaming community
Compatible with every PS4 game. Play online with other PS4 players with PlayStation? Plus.
Extraordinary entertainment
With up to 4K streaming and 4K auto-upscaling for video content.
PS4 Pro HD
PS4 Pro outputs game resolution ranging from 1080p to 1440p.
Dynamic 4K Gaming
PS4 Pro utilizes enhanced resolution techniques to increase game resolution to approach 4K.
Native 4K on Pro
PS4 Pro enables game resolution output at native 2160p resolution.
Greater Draw Distance
Improved visibility of objects further in the background with greater focus and more detail.
Anti-Aliasing
Images with soft features such as rounded corners and faces appear smoother and more visually realistic.
Visual FX
Visuals with very small features like smoke and steam have a heavier look and realistic feel.
Vivid Textures
PS4 Pro enables more elaborate design of the images that create the detail we see in games, like dirt on clothing or rust on metal.
Deep Shadows
PS4 Pro enables sharper shadows with cleaner detail at a greater distance, creating depth and image context.
High Fidelity Assets
PS4 Pro displays imagery that is more intricate, increasing the amount of images on screen at once.
HDR Technology
HDR balances the light in games, coming closer to the full spectrum of light we see with the human eye (also available on Base Model PS4).
FPS Boost: Locked
PS4 Pro produces smoother locked frame rates.
FPS Boost: Targeted
PS4 Pro produces faster targeted frame rates.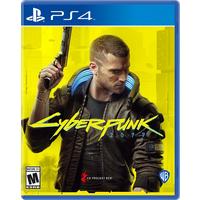 Cyberpunk 2077
Cyberpunk 2077 on PS4 is an open-world, action-adventure story set in Night City, a megalopolis obsessed with power, glamour and body modification. You play as V, a mercenary outlaw going after a one-of-a-kind implant that is the key to immortality. You can customize your character??s cyberware, skillset and playstyle, and explore a vast city where the choices you make shape the story and the world around you.
PLAY AS A MERCENARY OUTLAW
Become a cyberpunk, an urban mercenary equipped with cybernetic enhancements and build your legend on the streets of Night City.
LIVE IN THE CITY OF THE FUTURE
Enter the massive open world of Night City, a megalopolis that sets new standards in terms of visuals, complexity and depth.
STEAL THE IMPLANT THAT GRANTS ETERNAL LIFE
Take the riskiest job of your life and go after a prototype implant that is the key to immortality.
The game comes with the following physical items:
Case with game discs
World Compendium detailing the game??s setting and lore
Postcards from Night City
Map of Night City
Stickers
Digital goodies included:
Game soundtrack
Art booklet featuring a selection of art from the game
Cyberpunk 2020 sourcebook
Wallpapers for desktop and mobile